Global Perspectives Photo Contest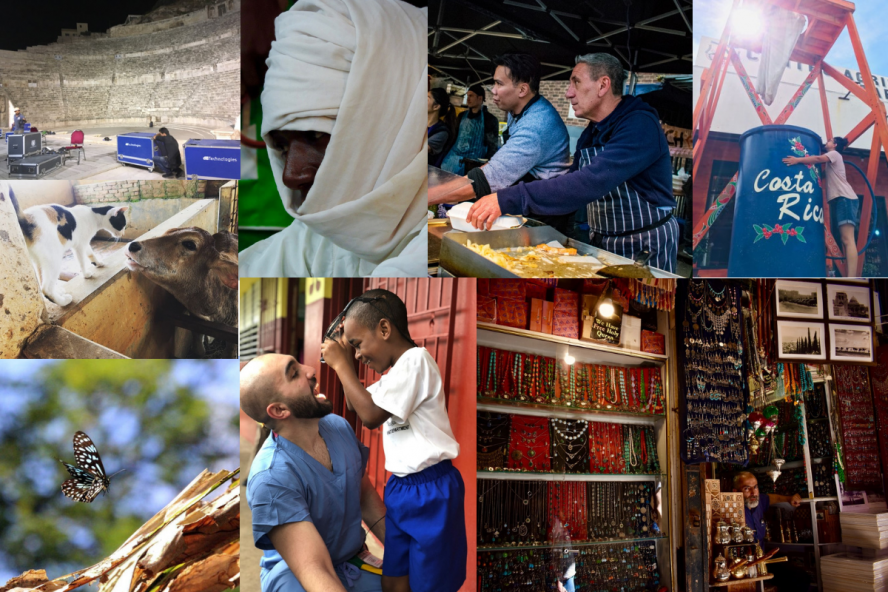 The annual Global Perspectives photo contest celebrates all of the global experiences that Tufts undergraduate and graduate students participate in while studying, working, interning, or conducting research abroad. The contest also welcomes photos that represent global perspectives on Tufts' campuses in Boston, Grafton, or Medford.
Winning photos are showcased each year at a rotating gallery and online.
Overview
Information regarding rules, selection and more can be found below.
Photos taken prior to matriculation at Tufts, post-graduation, or on personal travel abroad (i.e. vacation) are ineligible. 1+4 students are eligible to submit photos. 
Up to 3 photos can be submitted. You may submit a photo under multiple themes but be sure to adapt your reflection paragraph to address each theme.
All photos should have been taken by you or have you in it
All photos must be at least 

1200x800 pixels (or 800x1200 for portraits) 

Please name your file with your name, theme, and submission number.

ex. doe-jane-mumbai-one health-Photo1
The Global Perspectives Photo Contest categories are drawn from the research and scholarship themes identified through the Office of the Vice Provost for Research's strategic plan.
One Health

One Health recognizes the importance of the evolutionary and ecological links and interdependencies among humans, animals, and the environment. Photos should represent interactions or experiences that highlight these interdependencies.

Comparative Global Humanities

Comparative Global Humanities explores the connections between people, societies and economies. Photos should represent these intersections with an emphasis on examples of globalization in the modern day and/or in the past.

Climate, Food, Water & Energy

As the world's population grows and geopolitical powers shift, humanity faces global challenges to protecting the planet as a habitable place for all. Photos should represent these challenges or showcase the natural world as it relates to climate, food, water and energy.

Secure and Equitable Society

Tufts uses a broad definition of "equity" t

hat encompasses health, voice, wellbeing, wealth and income. Photos should represent disparities and/or equalities that exist in society.

 

Living Technology 

Technology is an integral part of our contemporary, connected world, with the separation between the human and the machine shrinking more and more each day. Photos should represent historical and/or contemporary examples of innovation and technology that advance the world we live in.
Students will be asked to write a brief reflection paragraph to explain their rationale for choosing their photograph and theme.
Photographs will be judged on their aesthetic value and on how well they respond to the category. Attention will be paid to ensure that photos are well representative of the University as a whole. 
Winning photos will be displayed on the Global Tufts website and in a rotating exhibit on the Medford, Grafton, and Boston campuses. 
We would like to use submitted photos on print materials and Tufts' websites and will ask you to give permission to publicly share your photo upon submission. 
Tips for Taking/Saving High-Quality Photos
Device Settings
For best results, set your phone, device, or camera to the highest capture settings. Look for the highest M or biggest pixel dimensions. Shoot RAW if possible. 
Image Capture
Frame your shots and keep the camera steady. You may be able to use a burst to get more than one image at a time or a tripod to keep your device steady. 
Submitting the Image
Select the highest possible settings and avoid downsizing the images.
2018 Winners
1st Place:

Soroush

Samimi

, School of Dental Medicine, Service Learning / Volunteer, Graduate (Saint Anne, Jamaica)

 
Summary:
Early education and prevention is key. Each year we travel down to Jamaica with the initiative to improve oral care in remote communities. Familiarizing the children with oral hygiene techniques, helps reduce their dental anxiety and reduces their risk of developing caries. We have been fortunate to come in touch with such beautiful souls and observe the improvement in oral care as well as their well-being throughout the years. 
2

nd

Place: Lauren Scanlon, Cummings School of Veterinary Medicine, Research, Graduate (

Chittagong, Bangladesh)
Summary:
I went to Bangladesh as part of the International Veterinary Medicine program to research clinical mastitis in the cattle of Chittagong. The goal was to determine the prevalence and distribution to better treat and control the disease. With better control, there would be higher national milk production that can feed the growing population with more nutritious food. While visiting the farms to collect data, I got a glimpse into the lives of the cows there. Cows are such fun animals that it was not hard to get silly shots of them.
Comparative Global Humanities
1st Place: Ben Shapiro, Arts & Sciences, other, Undergraduate (Jerusalem, Israel)​
Summary:
This Jeweler hides within his stand, but peeks out to survey onlooking locals and tourists. He is able to spring into action when identifying potential customers, yet is far more reserved than his loud and animated neighbors. His shop is tucked away in the crowded Arab market, or Shuk, which connects the Muslim and Christian quarters. The holy city of Jerusalem is one of both division and unity, distrust and faith. The Shuk is notorious for its accepted price haggling, a practice that often seems at odds with the holiness of the city. The store carries a small "We Have Free Holy Quran" sign above jewelry pieces with regional motifs, most not specific to any religion. A few nonfigurative Islamic designs are interspersed with Jewish stars and Hamsas. The Jeweler does not overtly appear to be a pious man, but he aids the religious expression of those who came to Jerusalem to connect with their faith and end up purchasing one of his pieces. The repeating rows and layers of jewelry shroud the Jeweler in an aesthetic rhythm of faith that transcends any specific religion. Although we are from different religions, we come from the same ancient tradition. He represents the shared values, shared space, and shared visual language that make Jerusalem unique.​
2

nd

Place: Kyle Lui, Arts & Sciences, Study, Undergraduate (

London, United Kingdom)
Summary: 
I chose this photo for Comparative Global Humanities because my discussion with these two food vendors highlighted the similarities that existed amongst their vastly different cultures. The man on the left is an immigrant from Thailand, while the man on the right is an immigrant from Italy. The countries and cuisines are vastly different, as Italy's staple food is pasta, while Thailand's staple food is rice. However, despite these culinary differences, these two men from different cultures were unified by their love for fish, and their love in providing this unifying global food to the London public. In effect, this image also visualizes the similarities that these men have despite their backgrounds through their synchronized physical movements and facial expressions.
 1st Place: Dana Perry, Arts & Sciences, Study, Undergraduate (Townsville, Australia)
Summary:
​This photograph features a Blue Tiger butterfly mid-flight, captured in the Palmetum botanical garden in Townsville, Australia. Within the past few years, several Australian butterfly species have experienced large population declines due to climate change. Butterflies flourish within the grounds of the botanical gardens, bringing color to the sky just after the wet season each year.​
2

nd

Place: Gabriela Garcia, Arts & Sciences, Research, Graduate (

Santa Maria de Dota, Costa Rica)
Summary:
The sculpture is a large replica of a mug of coffee prepared in the traditional Costa Rican way. This picture was taken on the day I finished a season of field work exploring the socio-ecological factors of farm stability. I chose the climate, food, and water theme because the small-scale coffee farms where I work are threatened by increasing climate variability. The steep slopes inhibit the use of irrigation making these farms especially vulnerable to shifts in rainfall patterns. Through this photo I hope to remind viewers the value of conserving the cultural significance of agriculture, too.
Secure and Equitable Society
1

st

Place:
​
Leonardo Ruiz Sanchez, Arts & Sciences, Service Learning / Volunteer, Undergraduate Student (Rio de Janeiro, Brazil)
Summary:
​Rio De Janeiro, in many ways, is divided. There are those elite, high rise buildings that make up much of what is seen in Rio, but sort of hidden on the sides of the mountains exist strong communities of many generations of families. These communities are often referred to as favelas. The disparities between the rich and the poor are very apparent. In this picture, the famous Christ the Redeemer can be seen in the distance which many residents of Rio have never visited because of the price.​
2nd Place: Samuel Schleipman, Fletcher School of Law and Diplomacy, Internship (

Ouagadougou, Burkina Faso)
Summary: 
We are all subject to global trends and forces beyond our control, but the world's most vulnerable are acutely affected. I attended the United Nations High Commission of Refugees (UNHCR) World Refugee Day event in the grand hall of a large Burkinabe government ministry as part of the US Embassy delegation. Many high officials in suits gave rhetorically pleasing speeches, filled with positive platitudes. Representatives from the different refugee and internally displaced persons (IDP) communities which had taken shelter in Burkina Faso were in attendance. In the midst of the pomp, I saw a young tuareg man sitting in a back row. I can't begin to imagine the path which eventually led him as a refugee to that hall. His distant gaze made me wonder his thoughts. Though the official speeches were encouraging, when would this man be able to return home and shed the label of refugee? How long before he would be able to lead a stable life, and not be plagued by uncertainty?
1

st

Place:
​
Courtney
Hulse
, Fletcher School of Law and Diplomacy, Internship, Graduate (Amman, Jordan)
Summary:
This photograph was taken at the Roman Amphitheater in downtown Amman. A crew is dismantling the electronic equipment after a live rock concert in the amphitheater. When we wandered inside, one of the crew members showed us some of the ancient technology as well. He explained that there's an ancient "walkie-talkie," two seats, one on either side, that had a direct, private acoustic connection, and he demonstrated how speakers could position themselves on certain marked spots to be able to project to the entire audience without needing a microphone. I chose this photo for the Living Technology theme because it demonstrates the way that ancient and modern technologies can be used in tandem and how the latter has adapted to the former, which despite being thousands of years old, is still in use.​