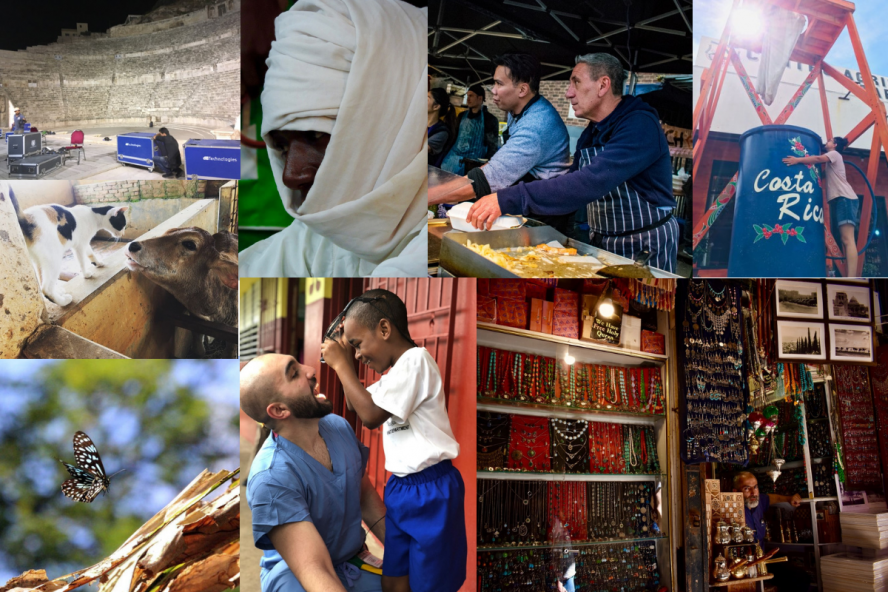 A Call to Action: Global Perspectives on Climate Change
Global Tufts Month 2022: March 1 - March 31
Beginning in 2019 and occurring annually, Global Tufts Week has evolved into a month-long series of activities and events across all of Tufts' schools and centers, designed to:
Showcase the breadth and depth of global engagement by faculty, students and staff in education, research and policy and civic engagement work.
Celebrate and advance Tufts' commitment to global engagement, international exchange and global learning.
Promote connection and dialogue across schools and across disciplines on global issues.
The theme for Global Tufts Month in 2022 is A Call to Action: Global Perspectives on Climate Change. Tufts students, faculty, staff, alumni and partners have sought to understand, address, and confront the causes and consequences of climate change, both at home and in a global setting, extending Tufts' commitment far beyond our local campuses. Events hosted throughout Global Tufts Month will explore and discuss issues as well as showcase work related to climate, environment, and sustainability in all facets of life—from environment, energy, science and technology and health, to psychology, politics, development, education, culture, and the arts.  We welcome events that highlight efforts and achievements at Tufts to promote sustainable practices around the world, address issues of equity and justice, and facilitate dialogue and learning on these issues across national and cultural boundaries.
Global Month Events
The Office of the Provost and the Senior International Officer organize and coordinate Global Tufts Month. All Tufts departments, centers, institutes, units, student organizations and groups are invited to host events to celebrate Global Tufts Month. Global Tufts Month events must comply with COVID-19 social distancing standards, and we encourage virtual events whenever possible. 
Events can include conferences, speakers, panel discussions, workshops, seminars, performances, film showings, cultural events, music, social and networking events, presentations and lectures, information sessions on programs, etc.  Events can be organized specifically for Global Month, and already planned events can be scheduled to take place during that week.
Events should be posted through the main Tufts Calendar, and will be displayed on both the main Tufts website and the Global Tufts website. Check the box for "Global Tufts Month" when selecting the event type.
Global Tufts Months events will be listed on the main page of Global Tufts. 
Each year, the Office of the Provost will offer funding for events during Global Tufts Month. Any Tufts faculty, staff, or student can apply for funding on behalf of themselves or an organization. Selected proposals will receive funding in advance of Global Tufts Month. The maximum amount of a mini-grant is $500. Please contact Christine Hollenhorst with questions. 
The deadline to apply for a mini-grant in 2022 has passed.
Archive of Past Global Month Celebrations
March 2021 marked the transition from Global Tufts Week to Global Tufts Month. Students, faculty, staff, alumni, and partners found creative ways to connect during COVID-19, and celebrated Global Tufts Month virtually. 
Read a write-up in the Tufts Daily. 
At a Glance:
Over 60 events were hosted across the university, and around the world
Events included: panel discussions, conferences, art lessons, dinners, and more
March 2nd -  9th marked the first annual Global Tufts Week. The theme, Linking the Global and the Local, was chosen to provide a unifying concept while showcasing a broad range of Tufts' global engagement, both international and local, encouraging cross-school and cross-disciplinary collaboration.
Read a write-up in the Tufts Daily
At a Glance:
Over 40 events were hosted across the Medford/Somerville, Boston and Grafton Campuses
Events included: lectures, art installations, trivia nights, dinners, performances and more