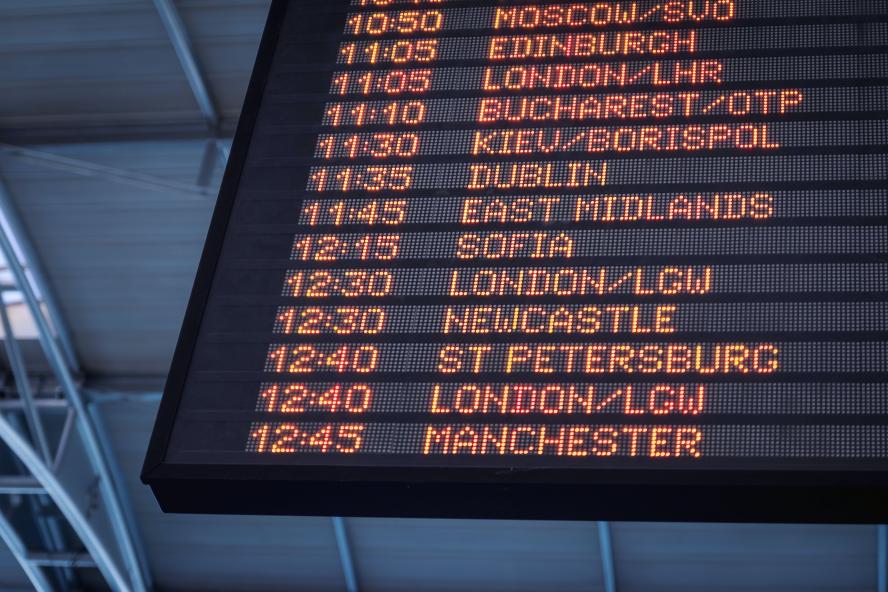 IMPORTANT UPDATE: Based on guidance from international, national, and local agencies, all university-sponsored, connected, or funded international or domestic travel by students, faculty, and staff is prohibited. These restrictions are in effect for students through August 20, 2020, and through June 30, 2020, for faculty and staff.
We encourage you to review the policy and process recommendations for travel before proceeding.
Please contact Global Operations with any questions at internationalsafety@tufts.edu or 617-627-3981
---
Travel Review
Students who are planning international travel to a high-risk location must request and obtain advance permission from the University through a Travel Review. The Travel Review is undertaken by the Tufts International Travel Review Committee (ITRC). The ITRC is chaired by the Provost's office and includes faculty and administrators with expertise in medical, legal, and global safety and security fields. The Travel Review process is established under the Tufts International Travel Policy
Students applying for a Travel Review are required to submit materials to the ITRC no later than four (4) weeks before their scheduled departure. Travelers should avoid booking flights before receiving ITRC approval. The Committee will announce Travel Review meetings and the respective deadlines before the start of each semester. 
The Travel Review consists of four sequential stages. To start the process, review each stage, then use the Travel Review application link below and enter the proposed dates and location of your travel. You will be directed to the application where you can see all the required elements and start on Stage 1. 
Stage 1 - Information for Travel Assessment: Detailed information about your trip plan, including accommodations, transportation, emergency resources, communication plans, work plans, and your general understanding of the risks in the location. Do your research ahead of time to accurately share your current knowledge of the risks in the location. Be as detailed as possible in this section of the application. 
Stage 2 - International SOS Travel Briefing: Global Operations receives your application and submits your responses to International SOS, Tufts security, and travel assistance provider on your behalf. International SOS reviews the provided information and will respond with a travel briefing, risk analysis, and risk mitigation information that is specific to you and your trip. Global Operations shares the travel briefing with you. You must review the travel briefing and upload a PDF for the travel briefing to your application profile. 
Stage 3 - Outcome of the International SOS Travel Briefing: Once you have reviewed the travel briefing and risk analysis, reflect on the information provided, your sources and knowledge of the location, and consider any changes you should make to your travel plans to mitigate risks while abroad. Add your reflections and any changes in your application profile. 
Stage 4 - Emergency Contact and Passport Information: In your application profile, enter your passport details and upload an electronic copy of your passport (optional), and provide your emergency contact information (in the US or your home country). 
Supplemental Materials (optional): You can use this space in the application to provide the Committee with additional information, such as maps, organization emergency plans or orientations, and training, personal certifications, etc., to support your application. This is optional and not required.
Once Stage 1 - 4 are complete, Global Operations will submit your application to the International Travel Review Committee for a thorough review of all materials. During the review, the Committee weighs a variety of factors, including but not limited to: 
Travelers demonstrated an understanding of the risks associated with the travel
Transportation choice, sourcing, and reasoning
Accommodation choice, sourcing, and reasoning
Communication plan developed related to the travel itinerary and location-specific needs
Inherent risk of location in relation to provided risk mitigation strategies
Inherent risk of traveler with regard to provided risk mitigation strategies
Local affiliation on the ground, if applicable
Ability to provide emergency support
The Committee also considers information from multiple other sources, including government reports and organizations, the University's travel assistance and intelligence providers, the University's insurance carriers, and other expert sources in providing relevant operational, legal, and risk management advice to travelers.
Outcome of Travel Review Process
Upon reviewing the submitted materials, the Committee may require applicants to take additional steps or alter their travel plans to obtain approval. Tufts may withdraw sponsorship should students fail to follow these recommendations. Should a Travel Review result in a denial of the travel request, a summary of the decision will be offered to the applicant or the applying unit.
Travel Approved: The Committee has fully approved the travel itinerary, and mitigation strategies and the travel is authorized.

More Information Needed: Upon reviewing the travel plans, the Committee requires the traveler to submit additional information for the Committee to make a decision. If so, Global Operations will contact the traveler to obtain the requested information.

Changes to the travel plans required: Upon reviewing the travel plans, the Committee requests the traveler to alter their current travel plans to mitigate further the risks associated with this travel. The Committee will verify that the changes have been made before approving the travel.
Approved with Conditions: Upon reviewing the travel plans, the Committee requires the traveler to take additional steps before and during their travel to obtain approval. 
Not Approved: Tufts reserves the right to withhold approval if the Committee determines after the review that the travel would be imprudent based on the particular facts of the case. Should a Travel Review result in the denial of the travel, a summary of the decision will be offered to the applicant or the applying unit.
To get started, please have detailed information about your work and trip plan ready and available to reference, then access the application here.
Travel Advisories
Tufts University closely monitors the U.S. Department of State (DOS) Consular Safety and Security messaging to help travelers assess risks of international travel and what to ensure your safety while abroad. 
The U.S. Department of State issues a travel advisory for each country of the world and regions within a country. Travel Advisories follow a consistent format and apply up to four standard levels of advice, describe the risks, and provide guidance on the actions travelers can take to ensure their safety.
US Department of State - Travel Advisory
The Travel Advisory appears at the top of each country page and is color-coded to correspond to the risk:
Level 1 - Exercise Normal Precautions: This is the lowest advisory level for safety and security risk. There is some risk in any international travel. Conditions in other countries may differ from those in the United States and may change at any time.
Level 2 - Exercise Increased Caution:  Be aware of heightened risks to safety and security. The Department of State provides additional advice for travelers in these areas in the Travel Advisory. Conditions in any country may change at any time. 
Level 3 - Reconsider Travel: Avoid travel due to serious risks to safety and security. The Department of State provides additional advice for travelers in these areas in the Travel Advisory. Conditions in any country may change at any time. 
Level 4 – Do Not Travel:  This is the highest advisory level due to a greater likelihood of life-threatening risks. During an emergency, the U.S. government may have very limited ability to provide assistance. The Department of State advises that U.S. citizens not travel to the country or leave as soon as it is safe to do so. The Department of State provides additional advice for travelers in these areas in the Travel Advisory. Conditions in any country may change at any time.
DOS issues an overall Travel Advisory level for a country, but risk indicators and advice may vary for specific locations or areas within a country. For instance, DOS may advise "Exercise Increased Caution" (Level 2) in a country, but to "Reconsider Travel" (Level 3) to a particular region or area within that country.
Visit the DOS interactive global map to learn about the Travel Advisory for the country and specific region of your planned trip. 
Travel Advisories at Levels 2-4 contain clear reasons for the level assigned, using established risk indicators and specific advice to individuals who choose to travel there. These are:
C – Crime: Widespread violent or organized crime is present in areas of the country. Local law enforcement may have limited ability to respond to serious crimes.
T – Terrorism: Terrorist attacks have occurred and/or specific threats against civilians, groups, or other targets may exist.
U – Civil Unrest: Political, economic, religious, and/or ethnic instability exists and may cause violence, major disruptions, and/or safety risks.
H – Health: Health risks, including current disease outbreaks or a crisis that disrupts a country's medical infrastructure, are present. The issuance of a Centers for Disease Control Travel Notice may also be a factor. 
N - Natural Disaster: A natural disaster, or its aftermath, poses danger.
E - Time-limited Event: Short-term event, such as elections, sporting events, or other incidents that may pose safety risks.
O – Other: There are potential risks not covered by previous risk indicators. Read the country's Travel Advisory for details.
K – Kidnapping or Hostage Taking: Criminal or terrorist individuals or groups have threatened to and/or have seized or detained and threatened to kill, injure or continue to detain individuals in order to compel a third party (including a governmental organization) to do or abstain from doing something as a condition of release. 
Frequently Asked Questions
In what circumstances does my travel need to be reviewed by Tufts University?
There are three instances when a Travel Review is necessary:
You are traveling to a country that is subject to a DOS Travel Advisory rating of Level 3 - Reconsider Travel or Level 4 - Do not travel

You are traveling to a region/area/city within a country that is subject to a DOS Travel Advisory rating of Level 3 -Reconsider Travel or Level 4 - Do Not Travel

You are a faculty or staff member organizing a trip on behalf of a group of students or are traveling with one or more students destined for a Travel Advisory country or region
What information do I need to submit in my application?
Purpose of travel
Proposed itinerary with dates and locations
Detailed information about transportation, accommodation, work plans, emergency plans, communication methods, and known risks. 
How long does the Travel Review take?
You should allow for 4 - 6 weeks to complete the process. The International Travel Review Committee meets monthly to review applications during the academic year. Don't wait until the last minute! Some applications may require revisions and additional information to reach a decision. *The Committee will accept late applications in rare situations, but will not consider applications received less than two weeks prior to scheduled departure.
I am participating in a university-organized program, do I need to complete a Travel Review?
Students traveling on university-organized programs, such as Tufts Programs Abroad, Global Health Rotation, or Global Service Learning should follow their program's guidelines on complying with this policy and when their destination is considered high-risk. Students are required to contact the respective school contacts for their program and submit the necessary materials following the program requirements and deadlines.
I am a medical resident. Is the Travel Review applicable to me?
Yes. The Tufts international travel policy applies to all undergraduate, graduate, and professional degree students, residents, and fellows. If you are traveling with a university program with an established internal review, such as the Global Health Program or the Global Service Learning Program, please also follow the instructions of your program administrator.
I am an international student and I'm going back to my home country, which is currently subject to Travel Advisory. Do I need to apply for Travel Review?
If you are traveling for university purposes, you are required to apply for a Travel Review. This policy applies to all Tufts students including international students. If you are returning home for purely personal reasons (such as vacation or visiting family), then the Travel Review nor Travel Registration is required.
Where can I access reputable country information to complete my Travel Review application?
How do I make changes to my submitted Travel Review application? 
Once you have submitted your Travel Review application it is not possible to make changes. You should contact Global Operations at  internationalsafety@tufts.edu or 617-627-3981
I have additional questions about the Travel Review process, who can I contact?