Office of the Provost
Members of the Office of the Provost who support the development and realization of university-wide global strategy to enhance Tufts' position in global education, research, and impact.
Diana Chigas
Senior International Officer and Associate Provost
The Fletcher School of Law and Diplomacy
As Senior International Officer and Associate Provost, Diana Chigas provides leadership in the development and realization of a university-wide global strategy to enhance Tufts' position in global education, research, and impact. Reporting to the University Provost, Diana is responsible for providing information, facilitation and support for globally-focused student engagement and faculty teaching, research and policy activities.  She works with Tufts' schools to identify university-wide geographic and thematic priorities, partnerships and global initiatives. Diana also works closely with the Director of Global Operations to ensure that appropriate administrative infrastructure and services are in place to support Tufts' global initiatives.
Diana Capone
Administrative Coordinator
Christine Hollenhorst
Program Administrator
Global Operations
Global Operations  brings together experts in the areas of tax, purchasing, legal, human resources, and compliance to assess issues, provide advice, and reduce internal infrastructure barriers for University faculty and staff undertaking research, projects, or programs abroad. Global Operations also administers the Tufts Travel Registry, a confidential and secure database for maintaining key travel information for all Tufts affiliates conducting university-related international travel. 
Claudia Jackson
Director, Global Operations
Chelsea Ferrell
Program Manager, Global Operations
Tufts International Center
The I-Center staff works to raise intercultural awareness, to increase the knowledge of immigration laws affecting the Tufts international community, and to advocate for a campus climate that respects cultural differences.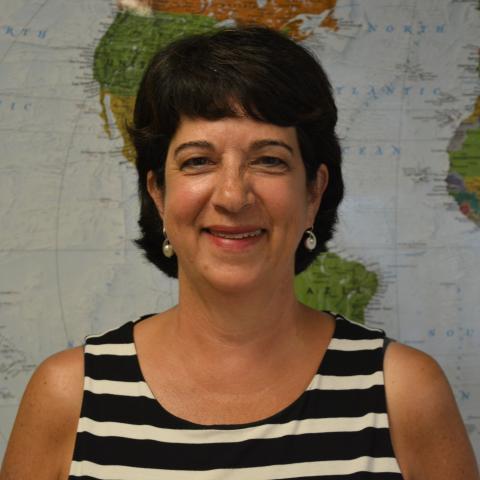 Jane Etish-Andrews
Director, International Center
In her role as Director, she manages a team providing immigration and student services to over 1,000 undergraduate and graduate students and close to 300 faculty and research scholars. In addition to her immigration expertise, she is an active colleague within the Group of Six in the Division of Student Affairs (African American, Asian American, Latino, LGBT, and Women's Centers). Jane's 30 plus years working with the international community at Tufts has allowed her to create sustained connections both within the Tufts network in the greater Boston area, as well as with Tufts alumni around the world.
In addition to her work at Tufts, Jane serves as an adjunct faculty member at Lesley University's graduate program in International Higher Education and Intercultural Relations where she supervises internships while mentoring graduate students. Jane is an active member of NAFSA: The Association of International Educators, where she has been a leader both on the regional and national level.
Jane earned her Bachelor's degree in French Language and Literature and a Master's degree in Teaching English as a Second Language from Boston University. She then began her career in International Education at B.U. as an Advisor to ESL (English as a Second Language) students, and later as the Assistant Director of the International Student & Scholar Office.