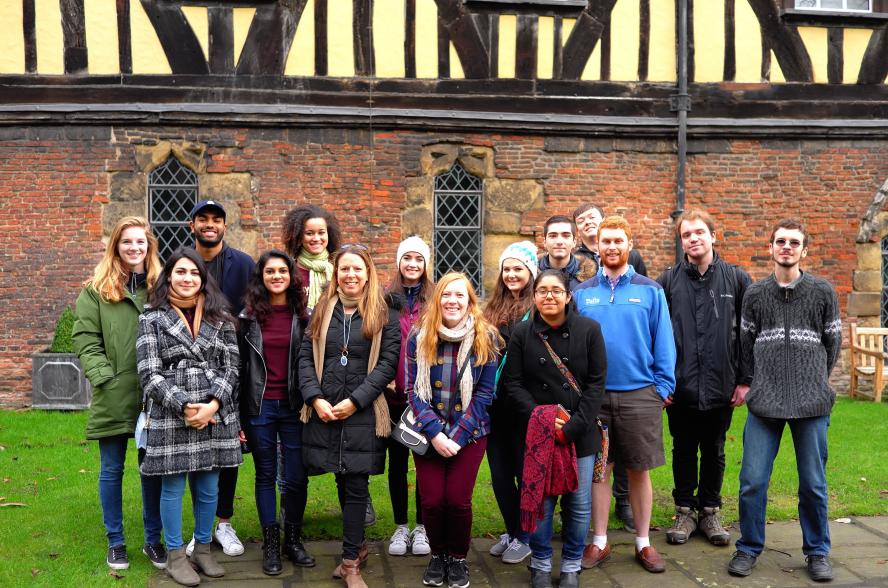 Typically, 40-45 percent of Tufts undergraduates participate in full-year or semester-long foreign study programs around the world. Students may choose to spend their summer at Tufts' overseas campus in Talloires, France, a semester or year abroad at one of over 80 pre-approved programs, or select one of Tufts' study abroad programs in Chile, China, France, Germany, Ghana, Hong Kong, Japan, Spain, or the United Kingdom. Learn more about Tufts Programs Abroad.
Tufts Programs Abroad
Tufts has offered study abroad programs for over five decades, and at present offers ten undergraduate programs abroad
Location: Beijing, China 
Program option: fall semester
Language of instruction: Chinese (Mandarin) and English
The Tufts in Beijing program began in 2002 at Zhejiang University in the city of Hangzhou, but recently moved to Beijing in a partnership with Beijing Normal University. With a strong curriculum and a robust program of extracurricular activities, this fall-semester option has attracted over one hundred and seventy students since its inception, a number of whom are gainfully and happily employed in China today.
Location: Santiago, Chile
Program options: fall semester or academic year
Language of instruction: Spanish
Tufts in Chile allows students to study at the University of Chile and the Pontificia Universidad Católica in Santiago, two of the region's leading universities, for the fall semester or the academic year. Students also participate in a credited internship experience, deepening their understanding of the local community and broadening their academic and career horizons.
Location: Legon, Ghana
Program option: fall semester
Language of instruction: English
The Tufts in Ghana program, which takes place in the fall semester, links Tufts to the University of Ghana (Legon), located just outside the booming metropolis of the capital, Accra. Students enjoy access to a wide variety of courses while also learning about Ghanaian culture and society.
Location: Hong Kong (SAR), China
Program option: spring semester
Language of instruction: English
The Tufts in Hong Kong program affiliates with the University of Hong Kong (HKU) and offers a spring-semester option for students in a wide variety of subject areas. Courses are conducted in English, but students are encouraged to study Cantonese during their time in Hong Kong.
Location: Kanazawa, Japan
Program options: fall semester, spring semester, or academic year
Language of instruction: Japanese and English
Tufts in Japan offers students a full academic year or semester in Kanazawa, one of the most beautiful cities in Japan. Academics focus on Japanese language and culture, but other courses, taught in English, are offered in select subject areas.
Location: London or Egham (Surrey), England
Program options: fall semester (UAL only), academic year (RHUL, SOAS, UAL, and UCL), or spring semester (RHUL, SOAS, and UAL only)
The Tufts in London program offers options for students in nearly every major at Tufts, as it partners with four top-tier institutions: University College London (UCL), Royal Holloway University of London (RHUL), SOAS, and University of the Arts London (UAL). Enrollment in the full-year program is encouraged, but select options are available for semester-long study.
Location: Madrid, Spain
Program options: fall semester, spring semester, or academic year
Language of instruction: Spanish
The Tufts in Madrid program is offered as a semester- or year-long program of academic study and partners with Autonomous University of Madrid (UAM) and the University of Alcalá de Henares (UAH). Designed to suit students with a variety of academic interests, the program combines a curated curriculum of in-house, seminar-style courses with the opportunity to enroll in courses offered at the two local host institutions.
Location: Oxford, England
Program option: academic year
Tufts in Oxford maintains an agreement with Pembroke College, through which a select few qualified Tufts students may spend an academic year as fully-integrated visiting students. Pembroke College was founded in 1624 and has a student body of 500. It is a friendly and informal college that emphasizes intellectual activity, but also values sports, drama, and music.
Location: Paris, France
Program options: fall semester, spring semester, or academic year
Language of instruction: French
The Tufts in Paris program offers a combination of in-house courses taught by French professors and courses taught in local host institutions, notably the University of Paris III (Sorbonne Nouvelle), University of Paris I (Panthéon-Sorbonne), University of Paris VII (Paris Diderot), and the Institut Catholique. Students of the Social Sciences and Humanities may wish to undertake the full-year certificate program at Sciences Po Paris, while Fine Arts students can take studio courses in the spring semester at the École nationale supérieure des Beaux-Arts (ENSBA).
Location: Tübingen, Germany
Program options: spring semester or academic year
Language of instruction: German
Tufts in Tübingen enjoys a long-standing partnership with the Eberhard Karls University, which was founded in 1477 and is one of Europe's top academic and research-oriented universities. A large selection of courses is offered, from archaeology to zoology, with a special selection of course offerings in German language and culture for visiting students.
Approved External Programs
Talloires European Center
The Talloires European Center offers academic programs for college undergraduates, high school students, alumni and adult learners. The European Center also hosts a variety of international conferences, all of which aid in facilitating and promoting international understanding. The European Center is based on the University's campus in Talloires, France.