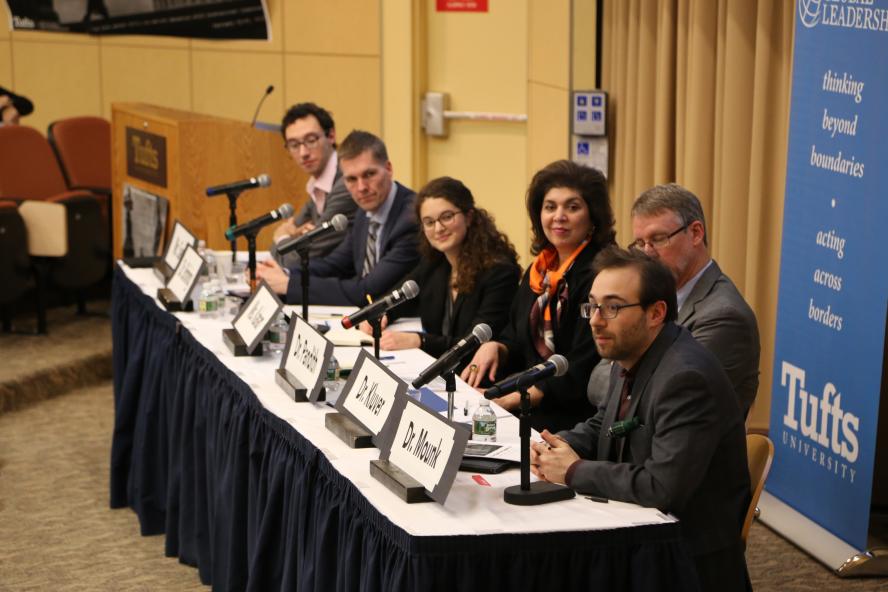 Led by members of the Tufts faculty, Tufts' global centers and institutes contribute extensively to research and promote higher learning at the University.
Center for Engineering Education and Outreach (CEEO)
The members of the Center for Engineering Education and Outreach are dedicated toward improving engineering education in the classroom; from Kindergarten to college. We have a research program aimed at understanding how kids and adults learn engineering. This research then informs our development of various educational tools.
Center for the Evaluation of Value and Risk in Health (CEVR)
Funded by a grant from the Bill and Melinda Gates Foundation, The Center for the Evaluation of Value and Risk in Health (CEVR) at Tufts Medical Center created the CEVR Global Health CEA registry, a database of cost-effectiveness analysis studies that evaluate health interventions from around the world.  The Global Health CEA registry focuses on those interventions designed to mitigate disease burden in countries at various stages of industrial development.
Center for Global Public Health
The Tufts Center for Global Public Health (CGPH) is dedicated to addressing global health issues through research and subsequent translation of findings into real-world practice. Our mission is to facilitate interdisciplinary research collaborations and capacity-building initiatives in resource-constrained settings that contribute to sustainable improvements in health outcomes and overcome barriers in health information, knowledge, and health literacy in these settings.
Center for South Asian and Indian Ocean Studies
Established in 1989, The Center for South Asian and Indian Ocean Studies at Tufts University has served as New England's focal point for scholars of and scholarship on the South Asian subcontinent and the Indian Ocean rim. 
Center for International Environmental and Resource Policy
CIERP's Mission is to build sustainable prosperity in a changing global environment through rigorous, policy-relevant, interdisciplinary research and training of the next generation of leaders.
Established in 2017, The Center for Strategic Studies is dedicated to producing policy-relevant research on strategy, international politics, and US foreign policy. CSS serves as a hub for students, faculty, scholars and practitioners to engage with one another in a supportive, collaborative, and collegial environment.
The Confucius Institute at Tufts University (CITU) aims to increase mutual understanding among people in China and in the United States through its effort to promote and support Chinese language and culture instruction and programming, and to facilitate and strengthen educational and cultural exchange and cooperation between the two institutions and the two countries.
The Edward R. Murrow Center For a Digital World
The Edward R. Murrow Center was established in 1965 in memory of the man whose distinguished reporting and analysis of world news and imaginative leadership of the United States Information Agency set a standard of excellence. Mr. Murrow's library and papers (more than 2,000 documents) are housed in the Murrow Memorial Room at The Fletcher School and the Tufts University Archives. Fletcher also has stewardship of a collection of audio and video recordings which are representative of Murrow's commitment to journalistic honesty, courage and integrity.
Fares Center for Eastern Mediterranean Studies
The Fares Center for Eastern Mediterranean Studies seeks to create an academic environment for the promotion of greater understanding of the rich heritage of the Eastern Mediterranean and of the significant challenges that this region faces in the twenty-first century.
Feinstein International Center
Promoting the use of evidence and learning in operational and policy responses to protect and strengthen the lives, livelihoods, and dignity of people affected by or at risk of humanitarian crises through research and teaching.
Global Development and Environment Institute
The Global Development And Environment Institute (GDAE), an interdisciplinary research institute founded in 1993, is dedicated to promoting a better understanding of how societies can pursue their economic and community goals in an environmentally and socially sustainable manner. GDAE has distinguished itself as a leading source of new thinking in economics — bringing fresh insights into the classroom with innovative curriculum materials and into policy debates with rigorous policy-relevant research.
Institute for Business in the Global Context
The Institute for Business in the Global Context (IBGC) focuses on the interplay between global business and the key forces that shape the context in which enterprises operate. The Institute cultivates "contextual intelligence" by considering the geopolitical, legal, financial, security, macroeconomic, humanitarian, and environmental impacts on business.
Institute for Global Leadership
Prepares new generations of critical thinkers for effective and ethical national and international leadership. The mission of the Institute is accomplished through its intensive engagement of students in classes, global research, internships, workshops, simulations and international symposia — all involving national and international leaders from both the public and private sectors.
The Institute for Human Security (IHS) focuses on the security and protection of individuals and communities while promoting peace and sustainable development. To achieve this, IHS catalyzes collaboration between and creates synergies among the fields that place people at the center of concern: conflict resolution, human rights, humanitarian studies, and political and economic development.
Humans, animals, and the environment are fundamentally linked, yet the strategies to address their health typically remain separate. One Health is a collaborative and interdisciplinary approach to optimizing health for humans, animals, and the environment at the local, national, and global level.
The One Health Workforce (OHW) project is working towards developing a collaborative workforce that is prepared to prevent, detect, control, and respond to the threat of infectious diseases and zoonoses around the world, in part, by employing the strengths of universities in One Health core competencies and skills. It is part of USAID's Emerging Pandemic Threats (EPT2) program. The focus of EPT2 is cross-sectoral disease surveillance, training, and outbreak response.
The Science Diplomacy Center aims to implement a holistic (international, interdisciplinary and inclusive) center of evidence integration to balance national interests and common interests worldwide.
The Tufts University Sensory and Science Center (TUSSC) experts, which include chemists, biologists, economists, and sensory scientists, bring a collaborative, creative problem-solving approach to investigate complex issues such as how changing conditions affect crops, food and beverage quality, and customer satisfaction.
Offers academic programs for college undergraduates, high school students, alumni and adult learners. Hosts a variety of international conferences, all of which aid in facilitating and promoting international understanding. The European Center is based on the University's campus in Talloires, France.
The World Peace Foundation (WPF) is an operating foundation affiliated solely with Tufts University's The Fletcher School of Law and Diplomacy. It provides financial support only for projects that the Foundation has initiated itself. WPF aims to provide intellectual leadership for peace. Our view is that the world needs a debate about world peace, drawing rigorously on evidence and theory.