Global Research Assistant Program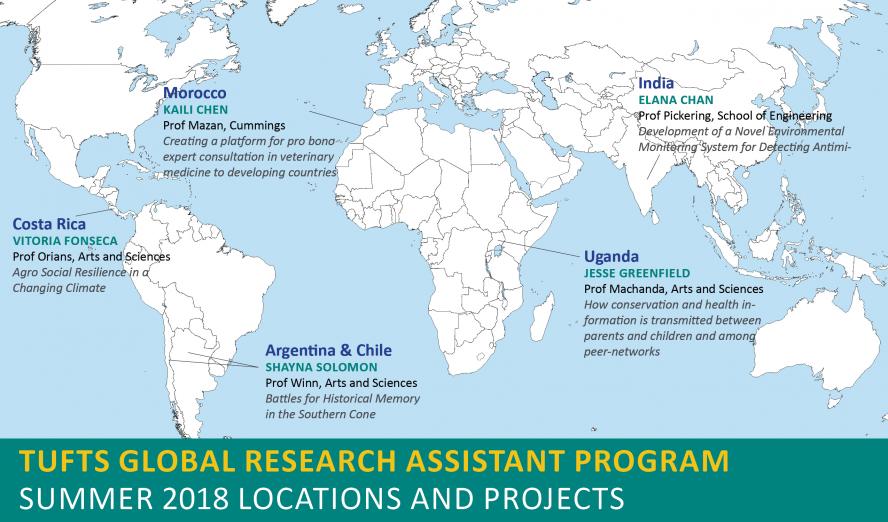 The Global Research Assistant Program (GRAP) provides the opportunity for Tufts undergraduate students to work with Tufts faculty members on international research and impact projects for a minimum of eight weeks during summer 2018. This is a new initiative sponsored by the AS&E Career Center and Summer Scholars Program, the Institute for Global Leadership, the Office of the Provost, and Tisch College.
This opportunity is open to Tufts rising sophomores, juniors, and seniors. The application deadline for summer 2018 is February 28, 2018, at noon.
Program Components
Summer Research Assistant position with Tufts faculty member
Weekly stipend
A minimum of 3 weeks at a field site outside of the United States
International travel costs including airfare, visa costs, local transportation, food, and lodging
If a portion of the project takes place in Massachusetts, housing arrangements and transportation costs may be available
2018 Global Research Assistant Opportunities
Refer to the Research Assistant job descriptions for details about each opportunity. You may apply to more than one. Please click on the links to read the full job descriptions.
Application Components
Resume/CV
Unofficial Transcript
Title and Contact information of one reference who is able to speak your research abilities and commitment to global understanding or to the subject of the research proposed.
A statement of interest in a particular research project (300-600 words). Please address the following:

Why are you interested in this particular research project?
In relation to the qualifications outlined in the job description, what strengths do you bring to this position? What do you hope to learn from this experience and how does this opportunity relate to your academic studies?
How will this opportunity inform your future academic and career goals?

This position includes a portion of time spent outside of the U.S. in varying contexts and will require working across cultural differences. Please discuss how you will address these challenges and what you might do to prepare for this experience. Share with us your experience engaging with cultures and individuals who are different than you.  Please be sure to refer to the particular international context of the project you are applying for as described in the job description (300-600 words).
Applications are due Wednesday, February 28, at noon and may be completed through this application portal.
Timeline
February 28: All application materials are due
Finalist interviews with faculty will take place in mid-March
Selected Research Assistants will be notified at the end of March
Late May – Early June: Position begins. Timelines will be determined by individual faculty.
Late August: After the program, students will be asked to provide a written report detailing their experience.